What is a chronograph?
In fact, there is a system for recording time in clocks called chronographs. This feature is available on mobile phones and some digital watches that can be used to record time.
In addition to the fact that chronographs are used in digital watches and mobile phones, they are also used in hands-on watches. However, it should be noted that their general structure is the same and it is possible that the only difference is whether their hands are large or small. To be.
As you know, the large hand on the screen is used to show the seconds, which can calculate the full speed of 60 seconds per hour. In addition to the large hand used for counting seconds, there is also a small hand that is made to record the number of seconds elapsed. The most important thing in chronography is its accuracy, which must be very high, both the large hand that counts the seconds and completes a full 60-second cycle, and the small hand that calculates the elapsed seconds. If you want to buy a watch that has a chronography system, you must pay attention to its hands, as there must be three hands.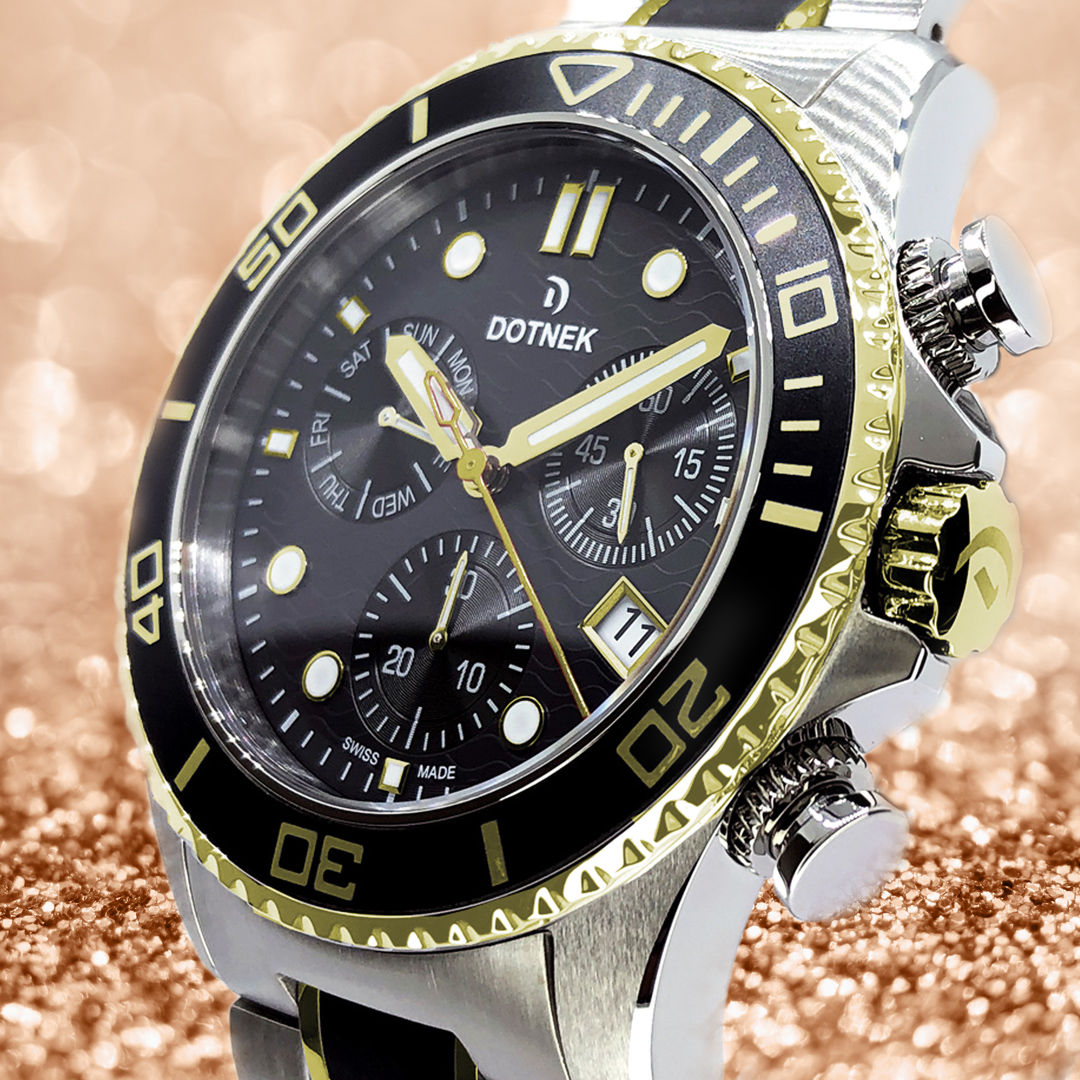 How can we set up and use a chronography system?
To be able to start the chronography system on the hands of the watch, we must press the button on the watch. It should be noted that after you press that button and the chronography system starts, the big hand, which is a second counter, starts moving. Other hands can start working after a while because they are small.
Then, for us to stop the chronograph system, press the same button that you pressed to start it to stop the chronography system. After stopping the chronograph system, the time displayed on the watch face is when you have started and stopped the system. To return the calculated time to the first one, you must press the button at the bottom of the clock so that the hands return to their place, and you can calculate the time from the beginning.
What are the uses and benefits of a chronograph system in wristwatches?
The first advantage of buying a wristwatch with a chronographic system is in the field of sports. These watches can be used in championship sports to accurately calculate records.
In normal and daily sports, it can also help a lot to regulate sports. To be able to calculate when you were able to travel a certain distance, how much you can do movements in a certain period, and the chronographic system in watches helps.
It is also very useful for other purposes such as reading or cooking or other daily chores, in which you calculate how much time you have spent doing something or how much time it has taken you to do something.
Of course, it should be noted that this possibility and capability is also available in mobile phones, but it is better to use the watch chronography system instead of the mobile phone chronography system in some places, such as hiking, forest, desert, etc.
What should we pay attention to when buying watches with chronographic system?
Original watches are not stylish without packaging
If you are given an unpacked watch when you buy it, it means that these watches are not original. Because original watches have stylish packaging. Most fake watches are unpacked! The packaging of the watch is very important, keep this in mind when buying.
To buy and prepare original watches, be sure to refer to reputable sites
In order not to have many problems with the watches being fake or invalid, it is recommended that you refer to reputable sites so that you can make your purchases safely. All reputable sites have the necessary licenses and there is no doubt and no problem in buying from these sites. e-namad is one of the licenses that reputable sites have. For example, DOTNEKWATCH.com is one of the reputable sites where you can safely make your hourly purchases.
Also consider after-sales service and product warranty
It is worth mentioning that more reputable and quality products that are provided from reputable stores and sites have after-sales service and warranty. Be sure to note that buying a watch without a warranty and guarantee is a big mistake that you may often be affected by fake ads and do so. When buying original watches, be sure to pay attention to its warranty and guarantee.
The important things that should be guaranteed are the color of the watch and its motor. When buying and providing an original and high-cost watch, you must make sure that its color is stable, and its engine is in good condition.
What kind of chronography do you want?
There are many different chronographs that a bezel tachymeter can be used to measure speed, a telemeter can be used to measure distance and a pulsometer can be used to measure heart rate.
There are some chronographs that can only take a minute or so, but this type of chronograph is very rare, and the most common chronographs can take up to 12 hours.
What price do you want for a chronograph?
To be able to make watches with chronographic systems, you must consider your budget, as one of the watches with chronographic systems, which is also more affordable, is quartz. This brand of watch, which also has a chronography system, has a more affordable price and almost everyone can afford to buy it. The chronography system of this watch can meet the needs of people.
What features can increase the value of a watch with a chronographic system?
Many appearance features such as the watch glass, the material and type of bracelet, the color of the watch body, etc. are very important, but for chronograph watches, technical features are very important. Some of the technical features that chronographs use to move the vertical clutch and column wheel are of great importance among chronograph watches. In this case, making and producing this type of watch is very difficult, and having this type of watch by moving using the column wheel and vertical clutch is an option.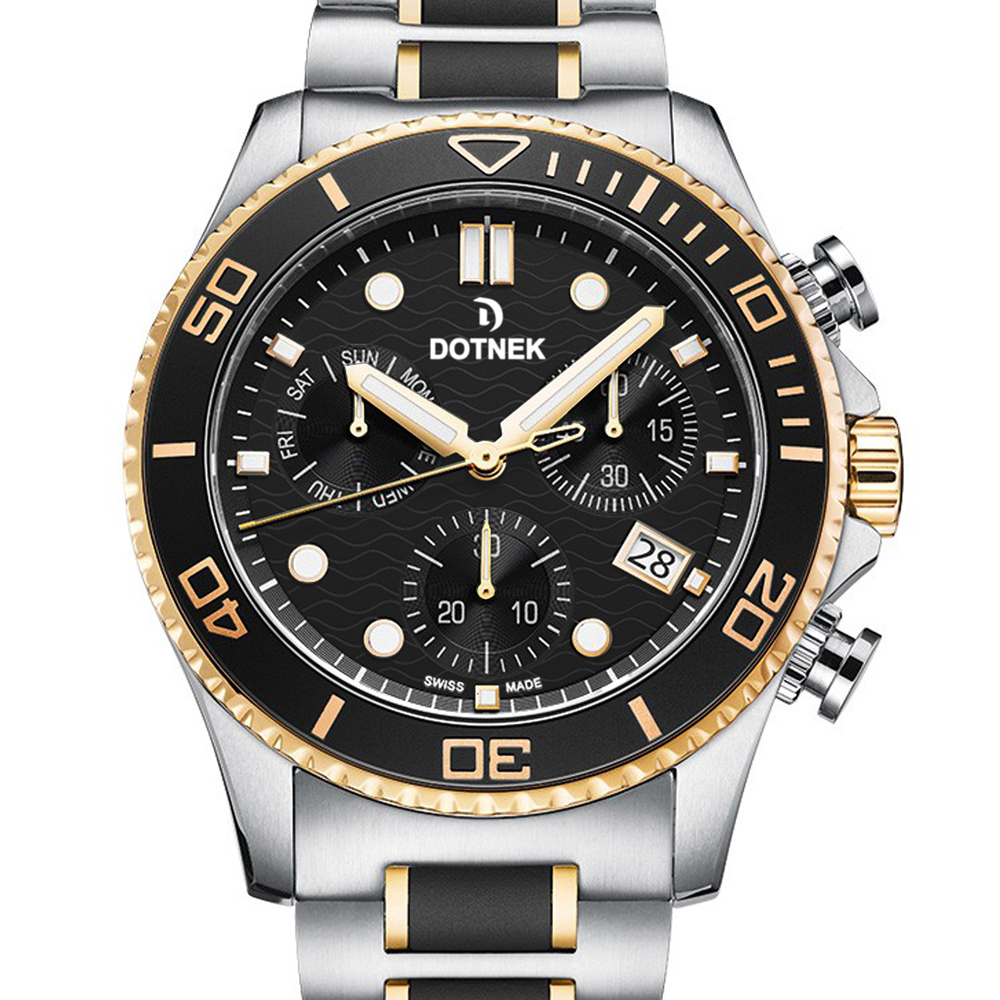 What size are chronograph watches?
It should be noted that due to the placement of the chronography system in the watches, the size of the watches is very large. When buying watches, you should also pay attention to the fact that the size of the watches is large and whether you can use large watches or not.
Of course, depending on the type of clothes you want to wear, you can also choose the size and type of watch. This type of watch is suitable for times when you wear clothes such as T-shirts.
It is noteworthy that the Audemar Piguet brand has launched three different models of chronographic watches whose body material is ceramic. Royal Oak Offshore Selfwinding Chronograph. The color of the watch face is in three different colors: smoky green, smoky blue and gold. These watches offered by the brand of this brand have Caliber 3126/3840, which can easily store and use solar energy for 50 hours.
Breitling brand has introduced a watch called Top Time Limited Edition to the market, which has a diameter of 41 mm and a body made of stainless steel. Some details of this watch are highlighted in red. The caliber used in this men's watch is Breitling Caliber 23, which can store solar energy for 48 hours.
Bulova brand has introduced a watch to the market that has a body made of stainless steel. The diameter of the watch face frame is 38 mm. The color of the dial of this watch is available in two colors, blue and red.
The Carl F. Brucher brand has launched the latest replica of the Manero Flyback watch. The straps of this watch are two metal or fabric straps, and its frame is 43 mm wide and made of steel. The color of the screen is blue.
The Chopard brand has also launched the Alpine Eagle XL Chrono watch, which has a 44 mm case and a metal body material.
The Portugieser Yacht Club Chronograph Edition Orlebar Brown is a watch marketed in collaboration with the IWC and Orlebar Brown brands. Its steel material is 44.6 mm, and it is equipped with Caliber 89361. The length of time that this watch can store solar energy is 68 hours.
The Zenith brand has introduced the Chronomaster Revival Manufacture Edition watch, which has three screens. The screens of this clock are sub-clocks and are located at 3, 6 and 9 o'clock. This watch has El Primero 400 Caliber.
The very luxurious TAG Heuer Carrera Chronograph Jack Heuer 88th Birthday watch has been introduced to the market, the reason for offering this very stylish and luxurious watch is the 88th anniversary of Jack Heuer. This watch has Heuer 02 automatic caliber.
Watch H. Moser & Cie. The Streamliner, named after the 1920s high-speed trains, has a steel body and an HMC 902 caliber.